New Practice members at Village Chiropractic
Your First Visit
When you arrive, you'll be greeted by one of our friendly chiropractic assistants. You can take a seat in our comfortable reception area and complete your paperwork. You'll then be taken on a brief office tour before being seated in our new practice member examination room.
The chiropractor will introduce themselves and then get started by discussing your history, what has brought you into the office and how we can help you.
The following tests may be performed, if indicated. They help us to assess your body for nerve interference. All tests are stored on our computers and used as a reference point so we can accurately compare your progress.
Thermal Scanning: An infrared scanner compares the temperature on either side of the spine. It looks at an aspect of the Autonomic Nervous System function.
 Static Electromyography (sEMG): sEMG looks at how much ENERGY your muscles are using to hold up your body against gravity.
Heart Rate Variability (HRV): HRV looks at the variability of your heart rate at rest. It gives us a picture into how much reserve and resilience your body has.
Digital x ray with Analysis: Chiropractic x-rays are taken at Auckland Radiology, Hauraki Corner. we use digital software to access your x rays from a chiropractic perspective.
Having performed all of the required tests we will compile the results of your case, and if necessary consult with the other chiropractors and develop a working strategy for your care. Please plan on being here for about 60 minutes, including the time needed for your paperwork. The cost for this visit is $150 (does not include X-rays.)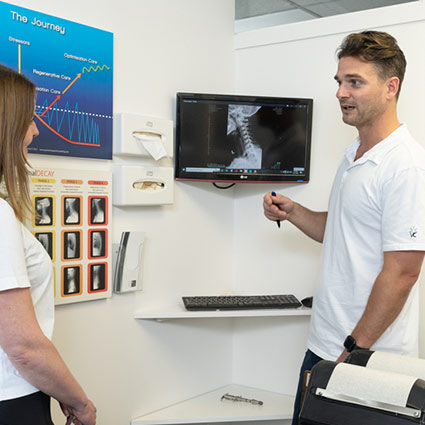 In order for you to have informed consent around your care the next visit is in two parts. The first is our pre-care appointment in which we will explain where we fit in to the health care system and what you can expect. The second half is your personalised report of findings in which we explain what we found, how we may be able to help you and offer a plan to achieve your outcomes.
Of course, any questions or concerns that you have will be answered. If all is in order we will begin care at this point.
As Devonport is a tight-knit community it's not uncommon to see friendly faces from around the peninsular in our reception. There is plenty of current reading material and a lending library. Your regular chiropractic visits usually only take 5-10 minutes.
Our chiropractic team has extensive clinical experience and are leaders in our profession. We use state-of-the-art techniques that get consistent and predictable results, and are proud to work in a network of like-minded professionals in Devonport.
Your case is monitored visit to visit and every 12 weeks we have progress examinations to ensure that we are on track with your outcomes. When your outcomes are met you can choose to stop your chiropractic care or proceed on to the other levels of care we offer.
We aim to give you our very best service and develop long term relationships with our people. We will be there for you no matter what your health goals are.
Schedule Today
If you want to get booked in immediately, you can call us at any time, and we'll do our best to accommodate you straightaway. Contact our practice to get started!

New Practice members at Village Chiropractic | 09 445 8030